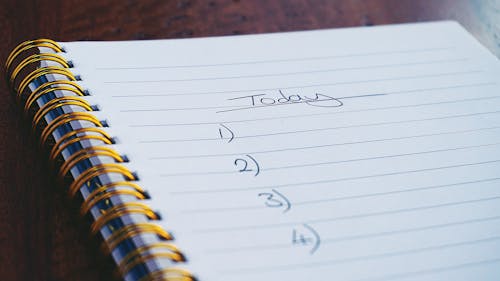 Sounds like a sales pitch, doesn't it? You know, life isn't buy one get one free, it's a one and only one-time deal. Those that feel they have more than one chance at life, well that's wonderful. Point being is while in existence is the only time we have to make a difference and help those around us.
The seconds, minutes, and hours of each day are ticking away never to recovered again. Where does the time go? More important, how was it used? Time is always being used, even if one is sitting idle and doing nothing. This should come as no surprise and that is one can not buy time.
"A man who dares to waste one hour of time has not discovered the value of life." ― Charles Darwin
Today is our day to be present, be alive, breathe, endure, exist, etc. It's our opportunity of a lifetime so let's take advantage of it. So it's a frustrating day and full of challenges but those are situations we can address and go forward planning for tomorrow.
"Yesterday is gone. Tomorrow has not yet come. We have only today. Let us begin." ― Mother Teresa
Today is our day to be encouraged and encourage others. A smile goes a long way, even virtually.
"The key is in not spending time, but in investing it." – Stephen R. Covey
Today is our day to learn and help educate others. Sharing knowledge goes a long way, empowering others to learn and share, as well.
Today's opportunity should be well spent
Once upon a time has no echo
Don't take one moment of life for granted
Actions build upon one's persona
Yesterday is gone, a simple memory
Ever so often, we can put things off but at what point do we take control and be what we can be. To continually wander through life with no purpose is wasteful and unfulfilling. Besides, it's not healthy and boring.
Today is our day to make a difference.
My poem is a Double Acrostic in which words are spelled by both the first and last letters of each line, so that one word can be read vertically down the left side of the poem and another word can be read vertically down the right side of the poem.
-a gander at Eugenia
I enjoyed a dedicated career in the insurance industry for over 20 years being rewarded both professionally and personally. Now it's time for me to follow my dreams by doing things I enjoy…spending time with family, learning, sharing, traveling, writing poetry and encouraging others to pursue their goals. My writing and creative endeavors can be found at my blogs, Eugi's Causerie I and Eugi's Causerie II, where I have gathered a following of kindred souls who share my passion for writing. I have authored ebooks, "Fanciful Delights" and "Mama, me and Mother Nature". I am also a published author on Spillwords.
image source – Pexels